Contact Us
If you would like to contact us, please call or select one of the email links below. Also included is a map of the area where Sarcione & Associates are located. Thanks.
Arthur Sarcione art@sarcione.com Cell ph: 508.878.7545

Jeff Sarcione jeff@sarcione.com Cell ph: 978.764.8386

Mark Sarcione mark@sarcione.com Cell ph: 978.210.3398


Office Phone : 978.927.4431

Office Fax : 978.927.4451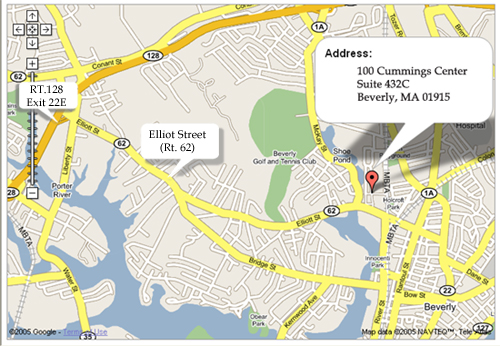 Directions:
From Route 128, take Exit 22E(Route 62). Follow Route 62 1.9 miles to Cummings Center Drive and take a left into the office complex. We are located in the building farthest to the right. When entering the building, take an elevator to the 4th floor where we are located in suite 432C. Parking is available in the lot or in the garage. Also available closer to our office is 1 hour and 2 hour parking spots. Drive around the building and park near the banner marked "135A". An elevator is located near this entrance, take it to the 4th floor. Turn left out of the elevator, then right, follow the corridor a short distance to our office on the right.
Thank you for visiting our website!